MDA Consulting Engineers, PLLC has a strong foundation that has been formed locally. Mark Alianello, the founding principal, started the business in 1982 in Ellicottville, New York. In 2014, Jake Alianello and Caleb Henning became partners and MDA Consultng Engineers, PLLC was formed. Today, the company is still located in Ellicottville, New York and continues to serve municipal and private clients throughout Western New York with a broad range of civil engineering services.

We are glad to serve our clients and are committed to this region. Each of us is living and raising our families in rural Western New York, and we have an appreciaton of the joys and complicatons associated with living in this area. We look forward to working with our clients to provide them with a soluton that is both cost effectve and functional.

Our company is a small firm where the partners take a hands-on approach to all projects. Mark Alianello has over 35 years of experience in the civil engineering field and Jake and Caleb each have over 10 years experience in the civil engineering field.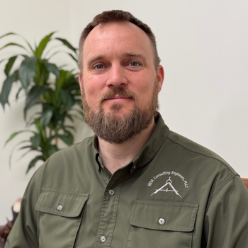 Mark D. Alianello, PE
Founder
Caleb D. Henning, PE
Partner / Project Engineer
Jake A. Alianello, PE
Partner / Project Engineer